We are excited to bring you the REP Cross Classic!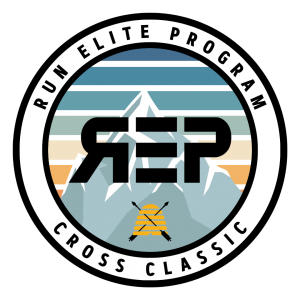 When: 4:00 PM September 9, 2022
Where: Valley Regional Park
The BYU Autumn Classic has been canceled this year because of construction at Timpanogos Golf Club. This year, with cooperation from BYU, Run Elite Program will help coaches supplement this now empty spot on their schedule by hosting the REP Cross Classic.
The REP Cross Classic will be highlighted by local colleges and their athletes from top schools such as BYU, Utah, Weber State, and the newly formed SLCC team. This race will give high schoolers the chance to run in a highly organized and competitive race featuring top competition from around the state.
Meet Schedule:
4:00 PM Community Open
4:30 PM Girls JV
5:10 PM Boys JV
5:45 PM Girls Varsity
6:15 PM Boys Varsity
6:45 PM Collegiate Women
7:15 PM Collegiate Men
Races: Community, high schools and collegiate women will run a 5K. Collegiate men will run a 7.5k.
Course at Valley Regional: COURSE MAPS AND PARKING MAP
Registration: Registration closes on Wednesday, Sept. 7th, at 5:00 p.m.(MDT). Please enter all of your entries before that time. We need to know that we have enough chips for all runners. Registration will reopen for last minute changes on Wednesday from 6:00 to 9:00 pm.
Team Registration: Registration will be processed on the web. Click on the Register link at the top. Team password is REPXC. Registration is $75 for each team, $150 per school (men/women combined). Please bring checks to the meet made out to Run Elite Program. They can also be mailed to 492 W 1200 N Springville, Utah 84663.
Individual Registration: Click on the Register link at the top, then click Individual Signup on the lefthand side of the page. Individual registration costs $12 and payment is processed via RunnerCard. If you are an individual not representing a college or club, please register for the community open race!
Timing: Timing and results by RunnerCard.  Each athlete will have an RFID transponder on the reverse of their bib, which will eliminate the need for a complex finish chute. We will collect splits at each mile. All splits and overall results will be displayed live on the results page. Each finisher will receive a personal RunnerCard at the end of the race
Spikes: Spikes are encouraged. All sidewalk crossings will be covered with artificial turf.
Spectator Admission: Entrance to the REP Cross Classic is $4.
Warm-up: The course will open for the athletes beginning at 3:00 PM Friday. Teams are free to preview the race the day prior according to the map, but the course will not be marked yet.
Parking: Parking is available at the venue as shown on the course map. Buses drop off athletes at the team tent field as indicated, then proceed to the lower bus parking lot. DO NOT park in front of the Taylorsville Rec Center, Pool, or Library.
Any questions can be directed to Olympian Jared Ward at jared@runeliteprogram.com, Isaac Wood at isaac@runeliteprogram.com, or info@runeliteprogram.com.